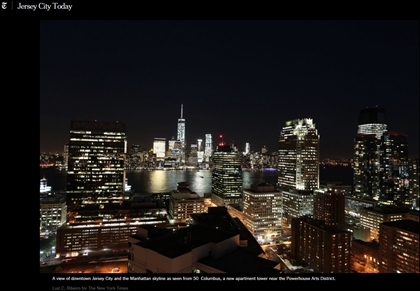 New York is coming!
Does a seller need a Realtor with a NYC connection?
You bet they do!
One of the growing trends that we have been seeing at our open houses in DTJC for the past two years is the number of buyers from NYC and Brooklyn who have told us they have found our listing on a NYC search engine, the Halstead website, or NYTimes.com. These marketing venues are unique opportunities that Halstead Property is providing Jersey City and Hoboken homeowners, and also setting us apart from our competition, to capture the interest in our area from the other side of the Hudson as a more affordable option for home ownership that this recent article in the real estate section of the NY Times is attesting to. See article!
It's really a new day in DTJC particularly, (Hoboken has been eyed by New Yorkers for some time now) and the ability to put your property in front of a wider demographic is becoming not only more and more important, but absolutely essential. No longer are we marketing primarily to a Hudson County demographic, which certainly was the case in Jersey City for a long time. As Jersey City grows and becomes known as an affordable, accessible, and desirable option to Manhattan and Brooklyn, the wider that target demographic for potential home buyers for the area grows as well. The time really is already here when you need a realtor with a NYC marketing connection. Not only does Halstead's affiliate offices in the city provide a great platform for the Jersey City and Hoboken homeowner, our association with Leading Real Estate Companies of the World, Mayfair International, and Luxury Portfolio is extending the marketing of a Jersey City or Hoboken property globally.


Photo by: - Luiz C. Ribeiro for The New York Times
http://www.nytimes.com/2016/02/14/realestate/the-jersey-city-real-estate-bandwagon.html?_r=1